The Kasambahay Savings Project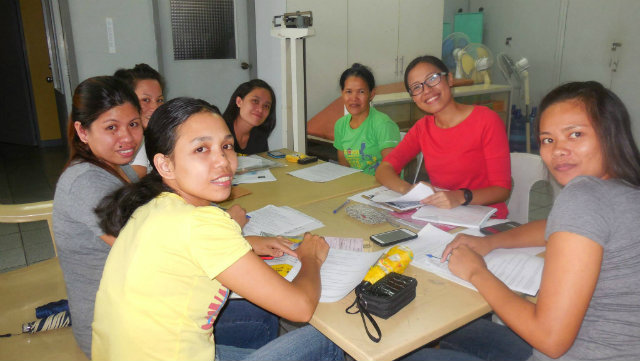 MANILA, Philippines – Is having a savings account your "dream come true?" Is it something you've "long desired?" For your kasambahay (house help), it just might be it.
This is how kasambahays who participated in the Kasambahay Savings Project describe their new accounts.
I started the Kasambahay Savings Project (KSP) this summer to help kasambahays open their first savings accounts. We invited them to go to the parish and the barangay halls to open ATM savings accounts during the weekend. Their new ATM cards were issued the same morning or afternoon.
I chose BPI's EasySaver accounts because of the low initial deposit requirement of P200. The kasambahays were also able to send money home to their families for free by conducting BPI to BPI transfers, provided their families also open accounts in their provinces. BPI officers gave a presentation and processed all the applications while we, the KSP team, provided all the necessary assistance such as explaining the application requirements and helping them fill up application forms.
The project is being piloted in San Juan City.
'Possible'
We've held two events in Greenhills churches, obtained clearances from 7 barangays, and 3 barangays have event lent us their barangay halls for events. Two barangays have also waived the fee for kasambahays applying for barangay clearances/IDs.
Each event consisted of 3 main segments:
A paper exercise to understand their financial experiences and to get them thinking of how to use their new savings accounts
A presentation from BPI on financial wellness
Filling up account application forms and issuing ATM cards
Savings possible?
Is it possible to save when you only earn P3,500-P7,000 per month? Yes, in fact, one kasambahay from our first batch asked me if she could open an ExpressTeller account, with a P3,000 minimum balance, instead of the EasySaver account. At our first event, she stood up and told us that as a single mother, she sends only exactly what her 4-year-old child needs and saves the rest.
The inspirations for this project are my aunt Carol, uncle Peter, and their kasambahay. They opened a BDO passbook account for her two years ago and have been diligently depositing 1/5th of her salary every month. Her name is withheld because she wants to keep her account a secret from her family.
When the new Kasambahay Law came out last year, I noticed that Greenhills began holding one-stop SSS registration events for kasambahays. I realized that there will be more kasambahays with IDs who can open savings accounts if they only knew how.
While studying at Columbia University in New York, I proposed a domestic workers savings program and was awarded a Davis Projects for Peace grant.
I have a team of dedicated paid volunteers. Mark, Aubrey, Glaiza, Leah, Nyla, and I staff sign-up booths, go door-to-door enlisting interested participants, deliver events, and guide the kasambahays.
Financial literacy

If you put P100 in a bank account with a 1% interest rate, how much will you have after one year? Among the dozens of kasambahays who joined our program, no one could answer the question correctly.
The Kasambahay Savings Project, however, does not focus on teaching complex concepts like that. Instead, we focus on practical tips such as how to use an ATM machine and how to deposit money. Based on previous studies on financial literacy, putting kasambahays in a classroom setting to teach accounting concepts and interest calculations is ineffective.
Although we do teach kasambahays concepts such as "Income – Savings = Expenses" (Kita-Ipon= Gastos), goal setting, and basic budgeting through the use of role playing videos. But the real learning will happen after they get their ATM cards and face real financial decisions.
Biggest threat
Employers are our best allies and our biggest obstacles.
Some employers see it as their right to decide for their kasambahays, whether they can have accounts or not. We never get a chance to even speak to the kasambahay herself. Meanwhile, other employers even drive their kasambahays to our events and then send me text messages thanking us for giving them the opportunity.
The biggest threat to the viability of Kasambahay Savings Project is our attendance rate. Only 8% of enlishted kasambahays show up to events. Hence, to get about 30 participants each week, we need to enlist 375 kasambahays.
The most common reason for not showing up is that they didn't have time to get an ID or they weren't able to get permission from their employers to go out for 3 hours on a weekend.
We don't need volunteers right now, but if you want to help, ask your friends and family. To make a list of interested kasambahays – include their names, cellphone numbers, and the type of ID they have.
The requirements are:
one ID picture of any size
P250 (P200 for the initial deposit and P50 for the ATM card fee)
any valid government-issued ID
Make sure that they truly intend to attend our events in San Juan barangay halls or churches. Our next event will be at the Santuario del Santo Cristo on September 6th at 3pm. Non-San Juan residents can also attend the Santuario event. Non-San Juan residents can also attend the Santuario event. – MaidinthePhilippines.net
For more information, you may visit the Kasambahay Savings Project on Facebook. Or call reach them at 505-6574, , 0916 -552-2852.
Lindsey Lim is pursuing a Master of International Affairs degree at Columbia University and a Master of Public Policy degree at the University of Tokyo. She was raised in San Juan City. She worked for the World Bank Group in Manila, Beijing, and Washington. She also worked for Citibank and interned for MasterCard and a British Member of Parliament. She graduated cum laude from the University of Notre Dame and from the Immaculate Conception Academy.
Source: Lindsey Lim of Rappler.com
Published: August 25th, 2014